The Metal Platinum
Why choose anything less than Platinum?
Rare, pure and Eternal. The platinum line across all hoarding and advt.
Ah! When we say Platinum, does it not reflect the word "status". True, the single word that reflects on our credit card, club membership, Alumni membership and not to forget the celebrities who also adorn them. This rare metal was called "little silver" from the word "Platina".
How old is the term Platinum?
Today the young generation has taken for granted that platinum is a coveted precious metal.
Well, this metal is known only from 1751 a mere 270 years. Platinum was a discovery as a by-product of gold and silver mining.
Did you know?
Chemists have identified the two combined metals in the silver cover on the 700 BCE Egyptian Casket of Thebes, on observation they noticed that while some areas of silver were highly oxidized the other silver were unaffected. On further analysis, it was learnt that the untarnished silver was a combination of platinum, gold and iridium. Platinum and gold blend well when crafted. Except for platinum being a little harder than gold.
History repeats…
Today, choosing between these precious metals is mind bobbling.
But when it comes to choosing precious metals for special occasions- engagement or wedding rings. Platinum has been voted as a better choice for it is one of the most durable metals and retains its natural colour besides being hypoallergic (a great choice for those with sensitive skin). Since the traditional times, platinum has been considered for engagement or wedding rings and continues till date. This awesome metal develops a soft enchanting glowing lustre that brings out the charm of an antique look as it ages. A lot of people love to own such kind of patina finish.  If you desire to have the new look always. Have a re-polish done to restore to its near original look.
Fashion yet traditional.
The combination of alloyed yellow gold in18kt with platinum setting works very well. You will find these two-tone band's combined offering of natural colouration with benefits of both the metal choices.
Style to choose.
Gems set in platinum are more secured than in gold. Without compromising on the beauty, brilliance or durability. The best type of settings recommended is prong or claw setting with thicker metal for prongs, the next best setting is the bezel, which can take heavy wear and re-polish. 
Does platinum fair better than gold?
Whether it is an engagement ring or a wedding ring or jewellery, the truth is, both metals appear to be virtually identical. Both are precious and traditional but varies in composition. While most metals are alloyed to a proportion. Most striking is the purity of platinum as its 95% pure and hypoallergic metal.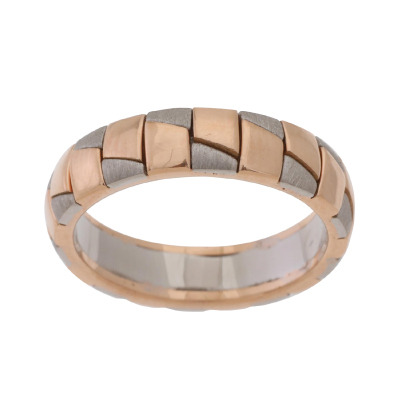 Is platinum scratch-free as heard?
Platinum is dense, hence more durable than gold, but soft by nature. Platinum can get easily scratched but does not lose metal, rather the metal is moved aside. Unlike gold where a fine amount of gold is lost from the surface area of the jewel.
Oh! this has also been the reason for its durability and strength, then polishing them will certainly be more difficult.
Looking back: Platinum is a dense metal than gold, but over a period of wear, it will also lose less metal compared to gold. The wear is inevitable.
The Choice is Yours: To recapitulate it all depends on how you like your ring to look in future and how much you are going to maintain to keep it looking new. For customers wanting a precious white metal platinum remains the precious metal of choice. Conversely, people looking for warm, luxurious traditional colour precious metal then go for gold.
AT C. Krishniah Chetty Group of Jewellers we have a whole range of both precious metals to choose from, across any of our magnificent showrooms. Or with a click of a button browse our website: www.ckcjewellers.com to choose ready to wear collections or create your own design to have it customised. For more interactive information feel free to contact any of our relationship managers who will be willing to answer all your queries.