Masks: The Friendly Companion During COVID-19
The arrival of the novel coronavirus came as a shock, then a worry, and now, as it marks more than 8 months of dealing with the virus; it has created a new norm.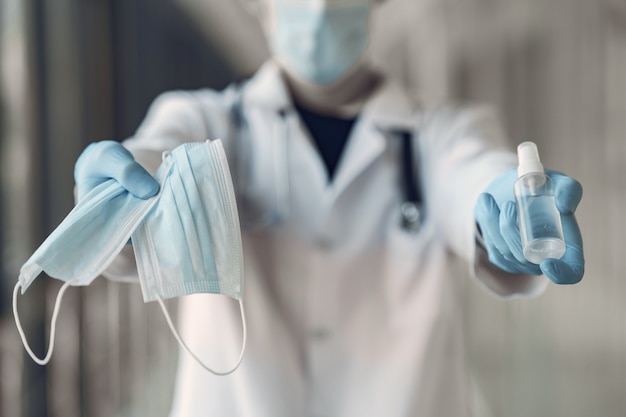 Where once we would wander out carefree, taking in the fresh air – today we have to wrap our faces with masks.
Where once we could socialize with all without a hint of worry, now we have to maintain a distance of at least 3-6 feet.
The times have changed? Truly.
Yet, as we continue to live in a partially quarantined world, life must not stop. We have to step out of the home, interact with each other, and continue our lives as we would – only a bit carefully now.
Embracing the "new normal", comes with wearing the mask whenever we venture out.
What is the Use of a Face Mask?
While one can agree to disagree to the usage and benefit of a face mask – it is perhaps our only mode of survival until a vaccine is created.
The novel coronavirus is known to spread through contact with the respiratory droplets of an infected individual; transmitted into the air as the said individual coughs, sneezes, drops saliva, etc.
How does a face mask help in this regard? It protects the crucial areas of your face – nose and mouth – by filtering out the droplets and not letting them enter your system.
Does a Cloth Mask Work?
While we see many masks trending in the market, everybody seems to be after the surgical masks or N95/KN95.
Surprisingly, these masks are only supposed to be worn by people who are
Medical Personnel
COVID-19 patients
For the regular healthy individuals like you and I, there is another, slightly fashionable a whole lot more comfortable mask to wear – the Cloth Mask!
The cloth mask also traps the droplets, and prevents them from entering your system, while going pretty well with your attire at the same time.
Win-win? We at C. Krishniah Chetty Group of Jewellers certainly think so!
Bejeweled Face Masks; What and Why?
As soon as news broke about cloth masks being fruitful – fashion enthusiasts around the world took it upon themselves to bring their creativity to face masks.
While the ever-famous Louis Vuitton introduced stylish face masks and shields, we now thought it was time that an Indian entity also stepped foot in the royal mask market.
Therefore, C. Krishniah Chetty Group of Jewellers presents its bespoke collection of bejeweled masks.
We thought if we have to simply live like this (until a vaccine comes out), we better embrace the new normal with style!
Go Minimalist, Go Plain
In our face mask collection, there is something for everyone.
This means if you like all things sober and plain, yet bejeweled – we have just the right fix for you!
Available in 2 beautiful hues with a chic outlook, the mask vows to go with all forms of clothing.
Wear the tangerine shade with a yellow t-shirt and blue jeans or match it up with eastern attire and don a mustard-hued angrakha.
Conversely, if you feel the tangerine to be too poppy a color for your face, switch it up with a gorgeous dark blue. Pair it with classy spectacles or cat-eyed shades – and you can stun in protective style!
Let the Print Flow
If you are like me, you probably love prints. From the wide array of printed shalwar kameezes adorning my wardrobe to sexy cheetah-printed dresses; print means joy, print means vibrancy, print means You!
Fortunately, we have a face mask fix for all print-lovers too.
Our collection includes a deep patterned burgundy mask, that would go effortlessly well with bodycon dresses and silhouette-tracing gowns.
On the other hand, embracing the Pantone Color of the Year 2020, we also thought to introduce a mask with its roots deep into the vibe of Classic Blue. Presenting a beautiful blend of gemstones and reptile prints – our blue printed mask is certainly one to have if you love all things blue and wear all things denim!
Glitz & Glamor
Sometimes, all of us wish for some glitz and glamor in our attire. However, instead of going overboard with heavily embellished gowns and sequined saaris, we at C. Krishniah Chetty Group of Jewellers give you another way to amp up your look just the way you want:
Glitzy Face Masks!
Available in 2 colors – black and deep maroon – our embellished masks have intricate detailing and subtle patterns that give a rather glitzy vibe.
Wear it to a small wedding, wear it to your friend's birthday, or wear it on your small and intimate candlelit anniversary dinner – the sky is the limit to the way these glamorous face masks can be worn!
Offerings of Our Masks
Our masks are not only beautiful, they are safe and present a variety of benefits:
Breathable
Washable
Reusable
Anti-Pollution
Comfort Fit
Provided in a pack of 6, they arrive with a case to keep them protected and safe from dirt.
If in search of premium quality ready-to-use cloth masks, buy the Face Mask Set and prepare to embrace the new normal with style.
Be #LuxuriouslySafe, Choose Masks by C. Krishniah Chetty Group of Jewellers!