Jewellery Above the Ages – Timeless Jewels
One of the life-long goals of a fashionista is to have the collection of accessories she needs to complete each look and appear stunning!
What could such a collection be?
Timeless jewels.
True to their name, timeless jewels transcend times and trends to be the ultimate fashion accessory. In trend during all phases, all decades in history – a timeless jewel vows to be a worthwhile investment to bear fruit today, and tomorrow.
However, what are these timeless jewels? Instead of you going on a researching spree, we at C. Krishniah Chetty Group of Jewellers lay down the possibilities for you.
String of Pearls
From the Hope Pearl to the La Peregrina pearl, it seems pearls have existed in fashion – and existed with style – for a long, long time.
Queens to princesses, goddesses to the nobility, every woman of high and mighty stature has enjoyed a good pearl necklace in her jewellery collection.
Today, pearls continue to be a trend each season, and grace the ramps as the ultimate accessory for designer wear.
But, in a variety of choices, what pearl jewellery should you purchase?
The string of pearls!
Fit for all necks, beautiful on each attire – the string of pearls stuns as a timeless jewel. From special events to simple ones, a string of pearls is sufficient for all.
When going to a wedding – wear the classic gold string of pearls over your chic ensemble to glow like a pearl. Or, if you are used to wearing the casual denims on a birthday party, wear the gold chain with silvery hues to stun in minimalistic fashion.
Diamond Studs
When someone said – Diamonds are Forever – they surely weren't joking.
Any and every jewel in diamond seems to enhance the features of the wearer and make them stun effortlessly.
However, when considering timeless diamond jewels, one stands out; studs.
So yet, so minimalistic, yet absolutely ethereal – there is something magical about diamond studs. You can wear them as your go-to accessory and never look over-the-top. You can pair them with a heavily embellished sari or a pair of palazzos and appear gorgeous each time. You can wear them with attires of all shades and colour and never find yourself mismatched.
Such is the might of diamond studs. If you want such diamond studs for yourself, ditch the crafty styles and go basic – something to last for the ages, something like these classic diamond stud earrings from C. Krishniah Chetty Group of Jewellers.
Cocktail Rings
If you were ever intrigued about the trend of 'Cocktail Rings', that makes two of us.
For one, the name itself seemed creative and invoke our curiousity. Why would a ring be called a cocktail ring?
Let us spill the beans (or the drink!), on what makes the cocktail rings as famous and trendy today, as they were in the 1920s.
While the beginning of the 1900s did not see much women in the limelight, with independence or the allowance to wander and drink freely – the 1920s, or the popularly called Roaring 20s came as a breath of fresh air, meant to change all norms.
Suddenly, women began attending secret bars and drinking away freely. However, while doing so, they wished for the men to notice them, and the drink in their hands. What better way to do this than by wearing a statement ring?
Thus, those women began wearing large sized rings in loud colours, encased with a single stone in the center and surrounded by multiple diamonds all around. This marked the birth of the Cocktail Ring.
Today, while the women don't wear the cocktail ring to make people notice their drinks, they do wear them to stand out in the crowd. If you wish to gain limelight wherever you go – a cocktail ring in bright colours is just what you need.
Perhaps a diamond ring with amethyst can claim the way to your heart. Or, our crowd-favourite red stoned diamond ring becomes your favourite too.
The Ever-Trendy Hoops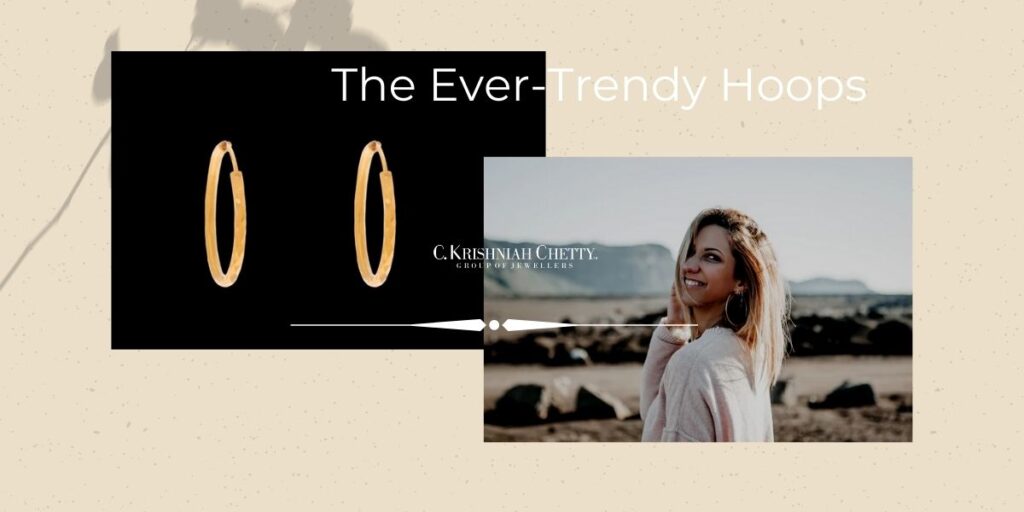 Gold hoop earrings have emerged as another trend that has simply decided to stick.
While in earlier times, the gold hoop or sonabaliwas essentially the first earring a woman wore as she got her ears pierced, it seems the hoop trend didn't change – only modernized bit by bit.
In the past, the hoops went full circle, while today, some of them are semi-hoops, extra-large hoops, diamond-encrusted hoops, etc.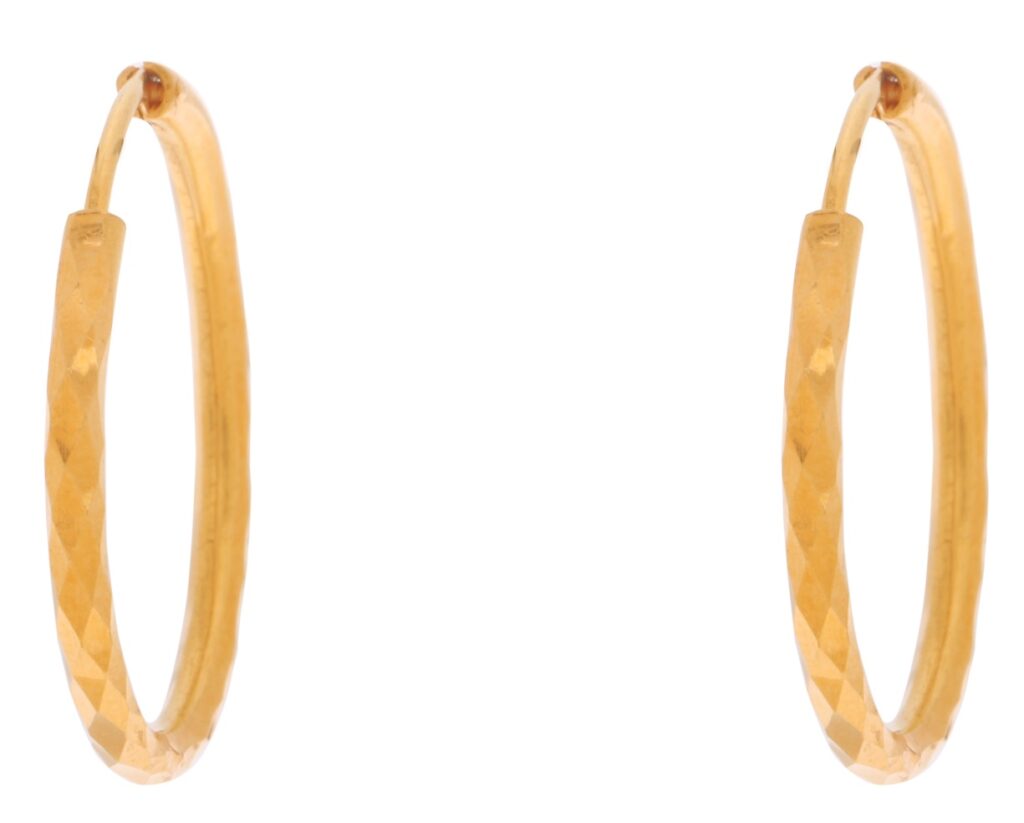 But the fact remains – have gold hoop earrings in your jewellery box, and you are set to shine your way through life, making each phase, your golden era.
Statement Brooches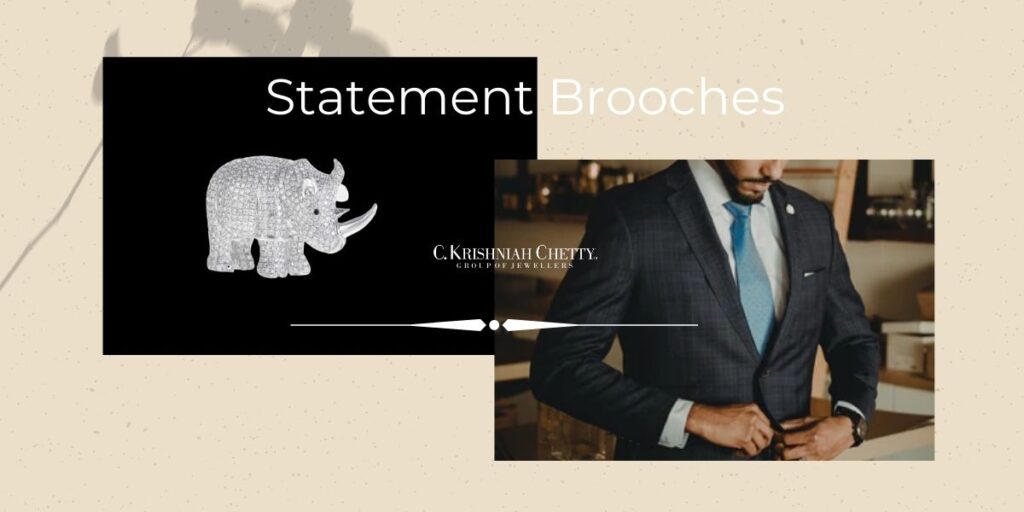 From gracing the turbans of the Maharajas in the past to adorning the dresses of the women today – brooches have always held special attention in the world of fashion as a decorative accessory worn by the most fashionable of people. If you wish to be one of those who not only wear this accessory, but embrace it with effortless style; it is time to get a statement brooch for yourself.
Add the glitz and glamour in your attires with this diamond brooch. Wear it to the top-left of your blazer or around your neckline – you are bound to stun each way!
Going Timelessly Chic
If you wish for your jewellery collection to be fashionable in all periods – get the timeless jewels now. Visit C. Krishniah Chetty Group of Jewellers or make your purchase online.