Decorate In Style With C. Krishniah Chetty Group of Jewellers
Have you ever thought of what makes a house, feel like a home?
Is it the voices of the family, surpassing walls and corridors, or is the quirky sibling rivalry that seems to take the house by storm? Is it the aroma of freshly baked cookies by mum, or is it our comfy sofas by the tv-side, tugging at our strings for a mid-day sleep?
We are here to tell you; it is all of these major things, and all of the little things that make your house – a construction of bricks – into a home fit for family.
From the furniture to the cutlery, every item has a story to speak and a tradition to uphold.
Making Your Traditions with Silver
If you want your home to stand out and be reflective of your chic home interior skills – go big, go silver!
Filled with umpteen benefits like being bacteria-free, easy maintenance, and ever-so-shiny; silver interiors certainly give your home a glow unlike any other.
Let's have the experts at C. Krishniah Chetty Group of Jewellers give you a few home designing ideas in silver:
---
Silver Dining Table
Rightfully the most important table of the home – nothing shines brighter than a silver dining table. It is probably the only table that witnesses the entire family, sitting together at one time of the day; and thus, must be given its due importance with thinking of interior design. We suggest going for a rather royal silver dining table, with pops of wood for the structure, and soft-cushioned chairs as accomplices.
Cover the table with a crystal-clear glass sheet, place a beautiful table runner in the middle – and your work on designing a royal-like dining room is almost complete.
If you wish to tone down the heritage vibes and give the table a contemporary spin; ditch the table runner and opt for funky table mats and coasters instead. Finish the look with a vase of fresh flowers situated right in the center of your table, and voila – your dining room is a modern vision of art.
---
The Chic Mini-Table
Of course, not always are you going to be seated on your dining table only. There are times when all you wish for is some me-time relaxing on the sofa, with the television running your favourite Netflix series.
Having been through binge-watches ourselves, we know comfort needs food, and so a mini table located nearby, topped with your favourite delicacies might just be what you need.
If you want a strong and sturdy mini table with a chic carved outlook and the charm of silver – this one might just be what you need. Place upon it a bag of crisps and soda, and relaxation awaits you.
Conversely, a round table might not be befitting for the needs of many. For example – if you need a mini table to place your laptop, a round one probably won't fit the description. This is why our creative home décor collection at C. Krishniah Chetty Group of Jewellers also features a beautiful square mini table in silver.
---
The Modern Sofa
Talking about sofas and binge-watching – it would only be fair to give you a breathtaking sofa set to properly adorn your home.
The best sofa has the following features:
Comfort
Large size
Sturdy handles
Beautiful outlook
Having a side-table paired with these attributes might just make any sofa set a winner – and fortunately, we have one for you that showcases not one, but two side tables!
As the dark wooden hues blend with the shining silver, the body of the sofa stands distinct from all. Fitted with printed cloth and a comfortable cushion in just the right size – you can plop on the sofa after a long day at work, or have your guests seated in utmost splendour; this sofa set with graceful side tables is certainly a sight for sore eyes.
---
Silver Mugs
As important as the interior décor is for adorning a home, the smaller items also play a grand role. Something as small as a coffee (or tea) mug depicts the familial bond in the home and is representative of the innate features of the individuals.
Imagine, if you enter a home and find a mug that says Head Gardener, you instantly know:
There is someone who loves gardening and all things nature in the home.
Yet, if you wish to stand distinct from the usual printed mugs – we suggest going for a sparkly choice: The Silver Mug from the collection by C. Krishniah Chetty Group of Jewellers!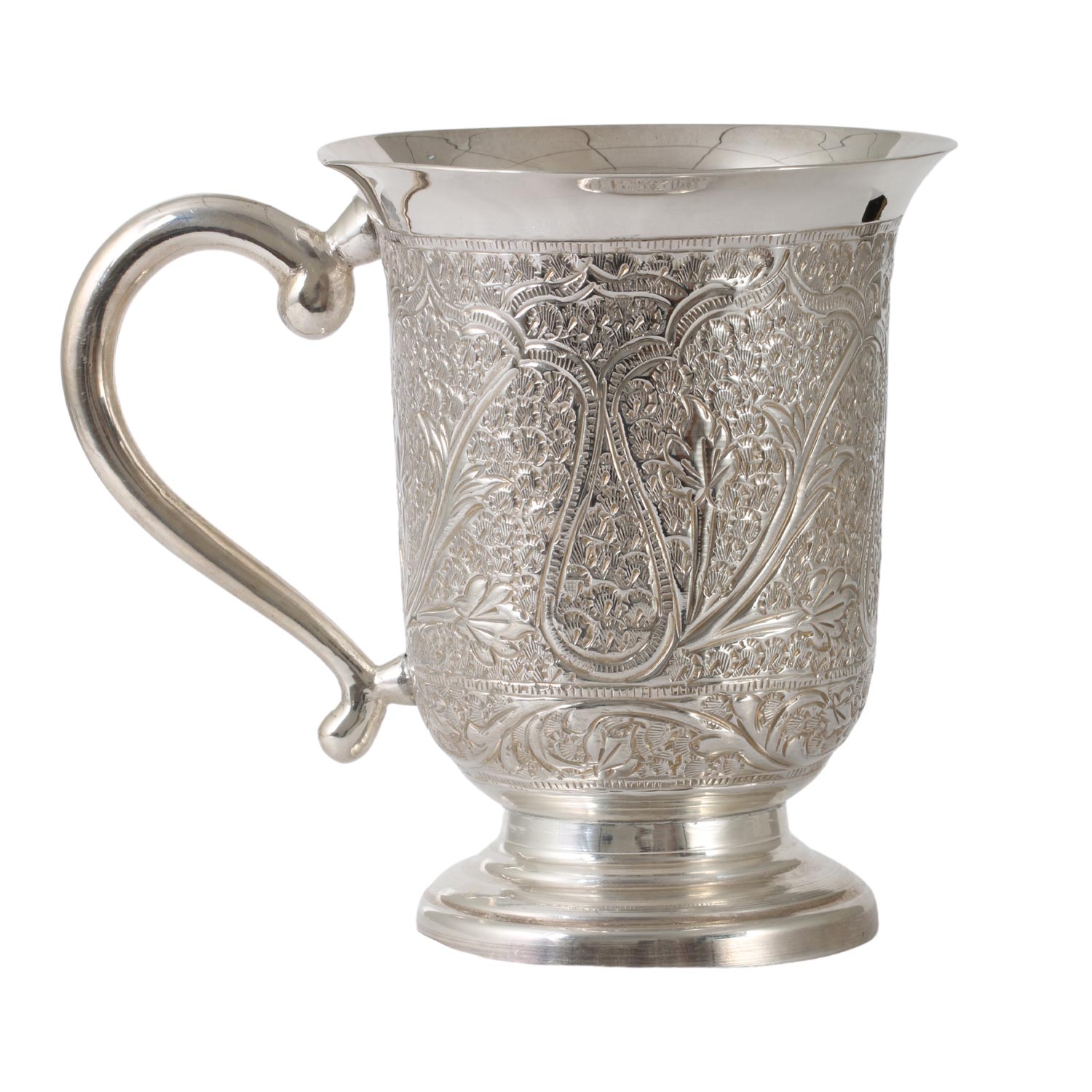 With intricate details on its exterior and a wide handle, it can make for a lovely cup for formal occasions – certainly the kind of crockery that makes your guests go Wow!
---
Fruit Basket
To add the final touches to your fabulously decorated home – don't forget to add the hint of nature; fruits!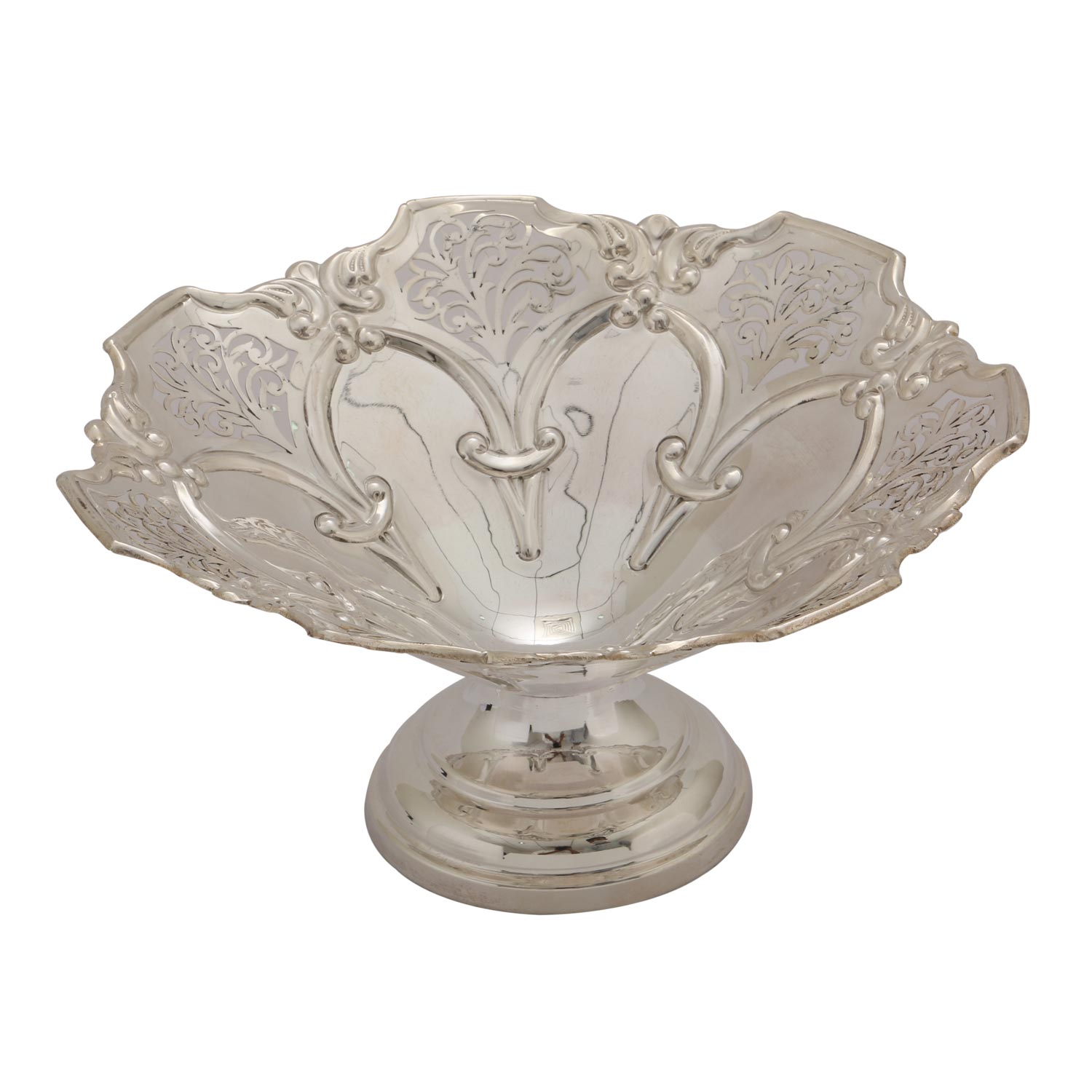 Get a modern fruit basket such as this silver creation from C. Krishniah Chetty Group of Jewellers, fill it with the season's offerings, and have it placed on your new dining table or the chic silver mini table.
Health in a bowl – never seemed prettier.
Let's Get Decorating!
If your mind is now filled with ideas of décor, it is time to turn your house into a home with some of the best home décor items. With C. Krishniah Chetty Group of Jeweller's silver collection – it is time to get decorating!