Intimate Weddings- With a Gleam of Luxury
By now, we all have well learnt what global dynamic changes have been spurred into our lives due to the pandemic of Covid-19. But there are two sides of the coin and we like to see the brighter side. Therefore, this dynamic shift has been morphed into a plethora of new found trends and same is reflected in the wedding season or, we should say 'Intimate' wedding season of 2020.
Let's unfold the most awaited trendy episodes of 2020 with a gleam of luxury where you will discover the mindful curation of wedding collection right from the classic engagement ring to propose her with a surprise to the grand wedding ensemble to oomph your intimate D-day.
---
Episode 1- The Proposal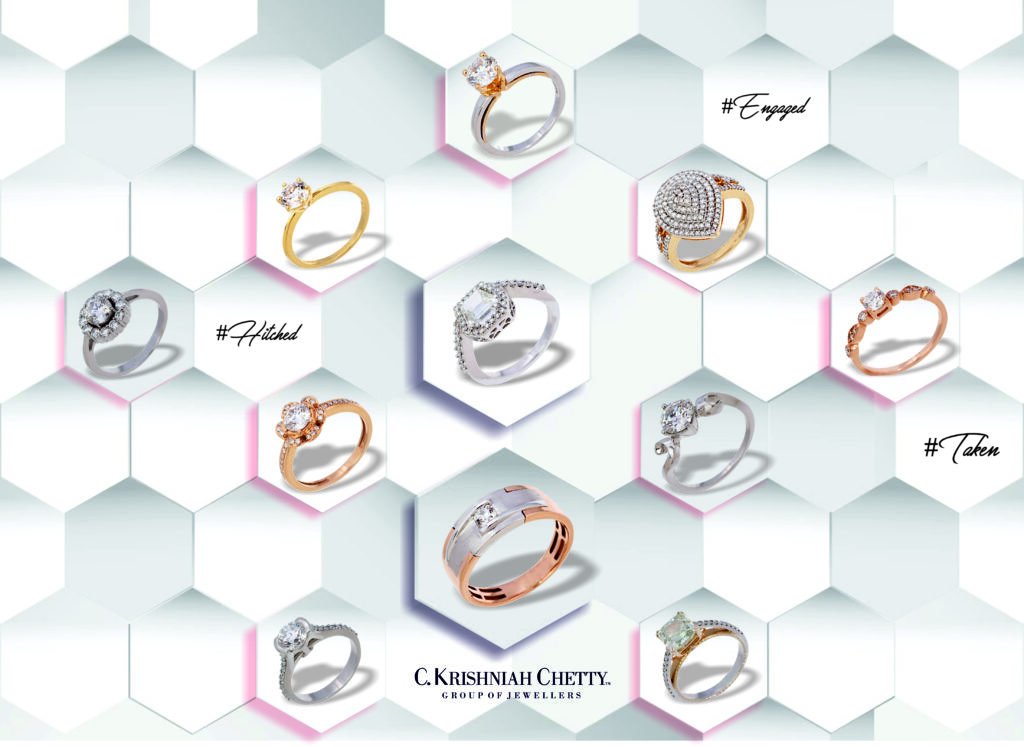 Planning a surprise proposal with a romantic sunset for your beloved? We have got your back!
While you are all set from tip to toe to propose her, a jaw- dropping surprise awaits her. Gleaming with our exquisite range of engagement rings, she will be amazed with brilliance of solitaires and overwhelmed with the plethora of fine designs- Hmm! a hard time to pick best of the best!
Designed with a contemporary essence for our young and modern couple, this exquisite solitaire engagement ring in white gold and diamonds for the elegant lady and a bi-metal solitaire band for the confident man is just right to match your unmatched bond.
Explore more to find your perfect engagement ring!
https://www.ckcjewellers.com/wedding-collection
Why stop at just shopping your engagement rings? Adorn this ultra contemporary set of pendant and earrings and bold diamond band while you step out in that classic dress to your pre-wedding party!
We can't forget our groom-to-be when it comes to styling him for his proposal! Here is our best of the best curation of classic gold bangle with diamond effect, platinum and rose gold bracelet and a contemporary yellow gold bangle with rhodium polish.
---
Episode 2- The Planning

Once she says 'Yes!, it is time to get planning.
While the lockdown continues in full swing and the aspect of micro-weddings has made an entry, we at C. Krishniah Chetty Group of Jewellers tell you to jump on the bandwagon of this wise trend and go for an intimate wedding!
Call your closest friends and family. Book a small venue. Keep the décor and food to a minimum – high in quality, but just enough in quantity.
Why do we suggest this?
We think a wedding, especially in such troublesome times, should be like a breath of fresh air; understanding of the times but also celebratory in its intimate, creative fashion. A smaller wedding means you can save your money for the bigger things in life, the things that matter more. Perhaps invest somewhere, save up for your first home, place the money in your honeymoon fund (post COVID-19), or, our favourite:
Purchase paper gold!
A wonderful investment indeed, with paper gold you can decide upon the value and denominations. Paper gold offers convenience, value, and great return as an investment, especially for the short term.
---
Episode 3- The Decor
Finally, as the day of the wedding arrives, it is imperative that everything is as perfect as you had always dreamt for a small, intimate, lovely evening. We know you would wish to serve your hedonistic desires with an expansive space to enjoy with your closest friends and family. Hence, we suggest you go with breezy beaches house, botanic home lawns or a private club- just enough to tick all boxes to go private.
To keep your evening memorable, invest on the little things:
The cake should be oh-so-delicious. One with a Mr. & Mrs. tag would be exceptional.
2. Personalize the menus
3. Add flora to the tables
4. Make photo booths and wonderful landscape arts · Decide on memorable takeaways!
---
Episode 4 – The D-Day!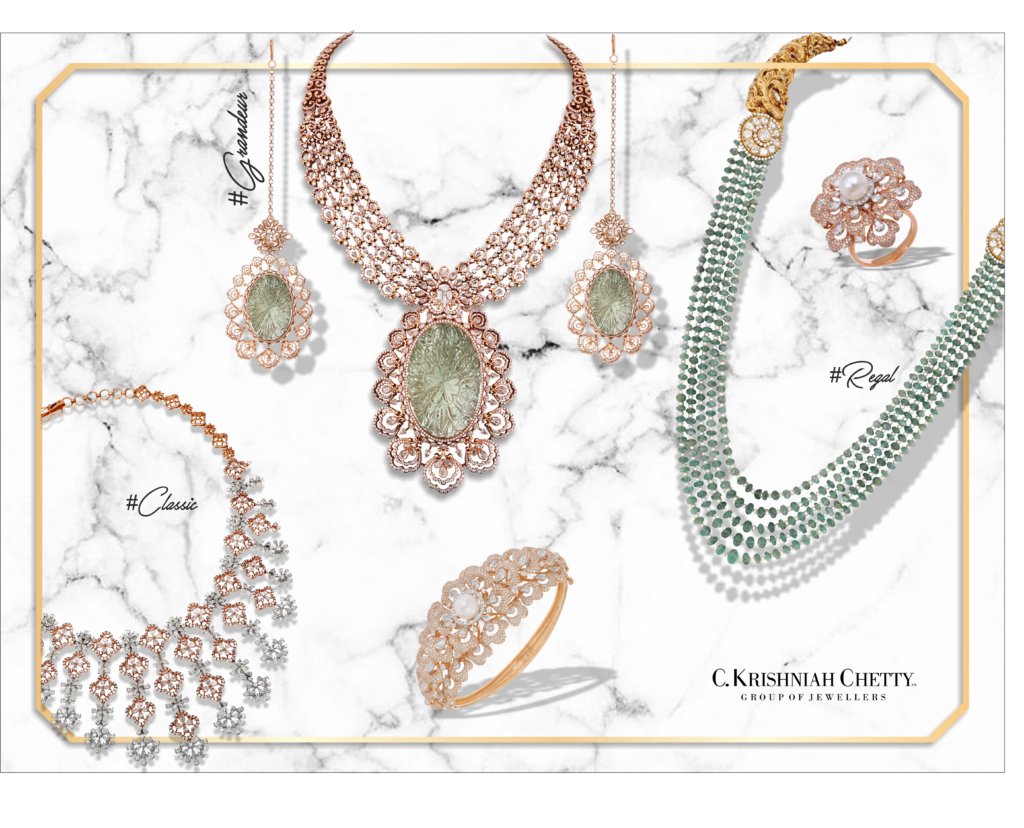 With the venue ready and the décor established, what is remaining? The wedding trousseau of Bride and groom!
Despite of a small wedding, the bride and groom dreams of becoming the most beautiful couple from the day they figure out what a marriage is, or perhaps even earlier than that.
It is only fair that they are able to experience their wedding in all its glory with grandeur of wedding trousseau that includes absolutely classic jewellery.
Have a look at some of our favourites from the bridal jewel collection:
A glorious Diamond Necklace with a stunning center Amethyst paired with Classic Diamond Drop Earrings with the same beautiful stone, in a lighter hue.
Or, go white and classic with a breathtaking diamond-studded necklace gracing your neck.
Complement your grandeur bridal attire with this floral bangle and cocktail ring painted in pastel hues of rose gold and plush pearls.
A regal emerald bead layered necklace for the groom to complement hues of the glorious
bridal trousseau.
Nothing is better than a Diamond Studded Frank Muller Watch to give a touch of gentleman to your classic groom attire. So, go on and flaunt your sophisticated aura.
Speak out your inner spirits that reflects your queen-like aura with the finely crafted silver clutches in bold rectangle and an elegant curved silhouette with oxidised finish to enhance the detailed intricacies of these pieces of art.