Fashion Guide to Attending Indian Weddings
As Shaadi season approaches, our heart skips a beat.
So many functions, such fun music, and the opportunity to dress up – what else can we want?
However, dressing up on an Indian wedding is no easy feat. There are countless aspects to be wary of. From the dresses appropriate to each culture, to the colours that are an absolute No when it comes to weddings; we have a lot to learn.
Do you have somebody's wedding coming up, and were facing the dilemma of
What do I wear?!
Fret not. With C. Krishniah Chetty Group of Jewellers by your side, we give you a fashion guide of the do's and don'ts, and accessories to wear on the Great Indian Wedding (pun intended). Let's begin!
Wear Bright Hues!
As Indians, no moment is dull for us, and so obviously, weddings call for pops of colour and bright hues!
You can go for monotone traditional dresses like a lehenga choli or short shirt and garara, and pair them with a dupatta in a different colour. For example, an orange stole/dupatta for an overall yellow ensemble. This will definitely make you stand out.
Or – and this is our favourite – you could mix and match with the other bridesmaids. If you are one of the closest friends/cousins of the bride, you are definitely a part of Team Bride. Colour coordinate with your other girl gang members, and show up on the wedding with a matching ensemble in bright hues (we vote Pink)!
Ditch the Reds
One fact of the Indian wedding – the bride will probably be wearing red.
Although times have changed and many modern brides have opted for wedding gowns in other shades, they do end up adding hints of red into their clothing in one way or another – be it via the heavy dupatta, embellished clutch, or gorgeous jewellery.
If you are a guest in the wedding, do not upstage the bride by wearing Red in any form. Instead, opt for another colour from a variety of pastels and bright hues, and pair it with the right jewellery. If you are the bride however, go red!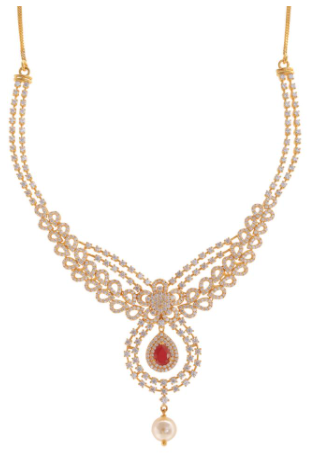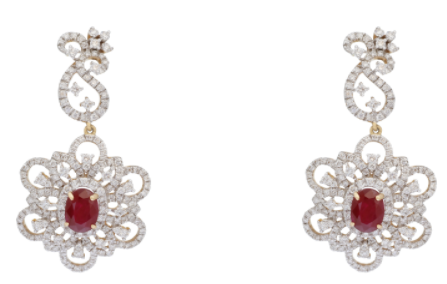 Have your entire wedding gown in traditionally red shades or go for another colour for your attire and match it with red jewellery, albeit in a chic look. Our classic gold necklace and modern diamond drop earrings with red centers seem like they were meant to be adorned on a bride on her special day.
Wear Statement Jewellery – the More the Bling, the Better!
Just because you are the guest and not the bride, certainly does not mean you lose out on the fun.
At an Indian wedding, jewels are your best friend. This means the more you wear (in line with your dress of course) the better it is!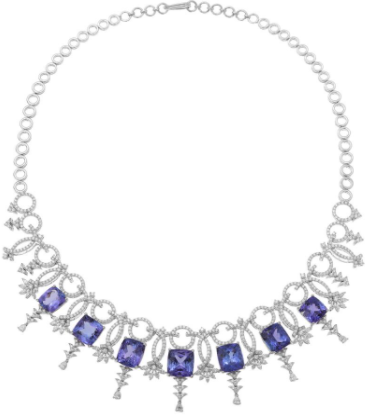 This spectacular diamond necklace in white goldgiving fashionista vibes certainly makes the cut. If you are wearing a slightly deep neckline or a v-neck, wear this If you are wearing a slightly deep neckline or a v-neck, wear this necklace and you shall be the star of the evening.
We suggest going for a modern yet traditional look. Whether you decide upon a lehenga and choli or an Anarkali suit, pair it with chic bling.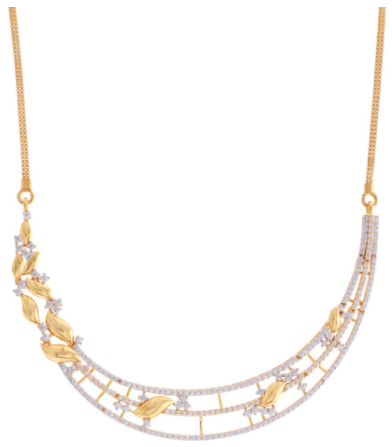 On the other hand, if you are in the mood for subtler yet stylish and in-trend jewellery to go with a modern gown to wear for the evening, this abstract gold necklaceis definitely one to claim your heart!
Bangles are a Must!
From the choodaof the Punjabi pride to the Kaleeraof the North Indian bride – bangles are a lovely sight throughout the Indian wedding. This means regardless of whether you are closely related to the bride and groom, or are merely a long-lost relative attending the wedding – bangles are a must!
However, since it is a wedding, our fashion experts at C. Krishniah Chetty Group of Jewellers would recommend you to ditch the regular glass/plastic bangles and instead go for rather modern ones instead in line with the feel of a wedding.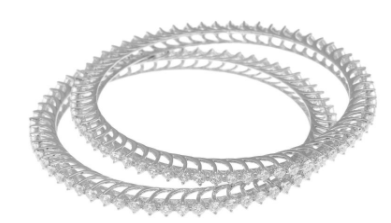 One such popular choice is the estate diamond pair bangle. With the benefit of going with most ensembles due to its silvery hues and its simplicity – these should be the go-to bangles for wedding attendants hoping to stand out but not over-the-top.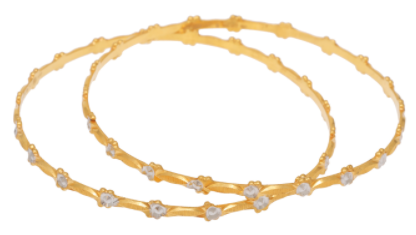 On the other hand, if your clothing is a bit simple and you wish to brighten things up a bit with your accessories, go for these studded gold bangles by C. Krishniah Chetty Group of Jewellers.
Get the Henna!
A wedding is as special as the festivities it entails. From the haldi lagai to the Sangeet, it is the little things that make it special.
One such feature of a wedding is adorning the hands with Henna. A paste that is used to fill the hands with intricate designs, Henna application is a wonderfully traditional feature of weddings. Thus, whether you are a wedding guest or the bride – we tell you to get the Henna in the design of your liking!
Get Ready For the Wedding
Now that you are equipped with all the knowledge you could need of attending an Indian Wedding, it is time to get dressing!
If in need of beautiful accessories; visit C. Krishniah Chetty Group of Jewellers for a wide collection of jewellery.