Bridal Glam Meets the Feet – 6 Types of Bridal Feet Jewellery
Every girl dreams of the day.
When she would leave her home with the man of her dreams to embark upon the journey of a lifetime. Yet, amid all the preparations made for the day, one stands out.
Jewellery. 
Considered essential for every bride, it is the jewellery that sets one apart from the other.
Jewel Down 
While we'd usually ask you to jewel up with our collection, feet jewellery asks for a jewel down, and is a way to shine among the usual brides.
Imagine the gorgeous jewels caressing your feet while the feet henna gives a beautiful sight, and vibrant nail colours set the tone for bespoke fashion.
For bridal glam meets the feet, here are 6 types of bridal feet jewellery you will absolutely love on your big day:
Anklets 
As "Baand keh mein ghungroo, pehen ke mein paayal", plays in our ears; why not invoke those Aishwarya vibes on your big day too? 
Wearing a gorgeous anklet is a way to adorn your feet at the cuff while ensuring the henna print shines in totality, without any view blockage.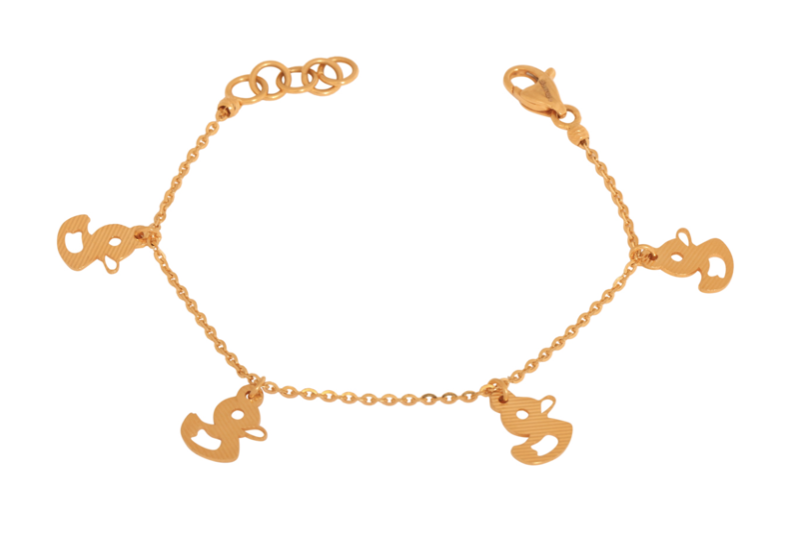 Gota Up!
If you thought gota work was only to be done on eastern attires and at the bottom of dupattas – think again!
Gota work has made its way into the world of feet jewellery, and it is certainly a sight for sore eyes.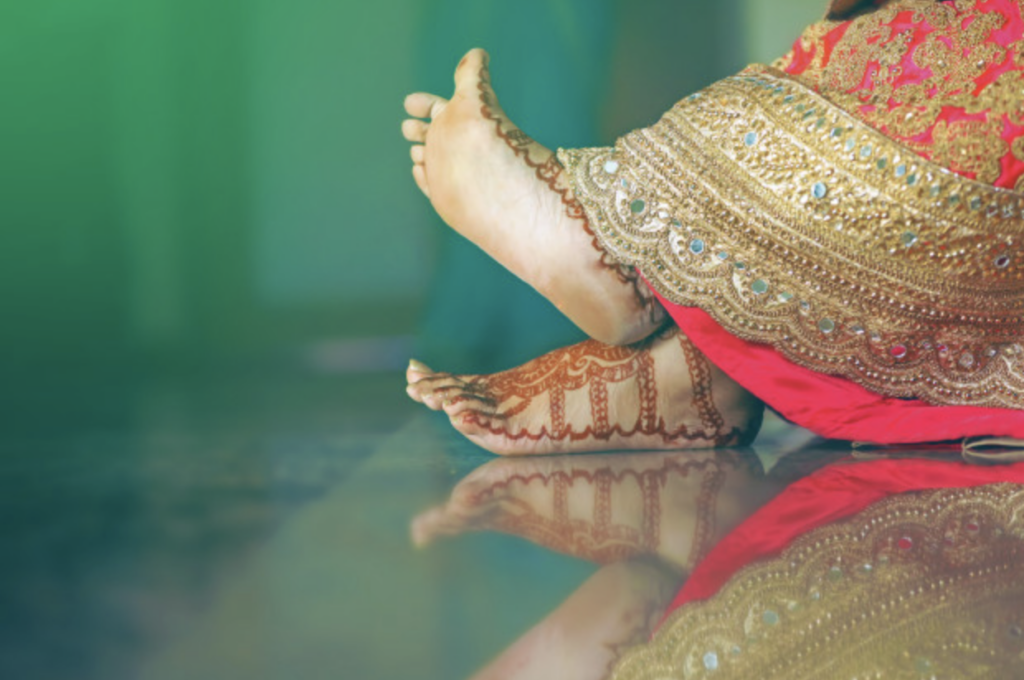 Wear distinctly patterned gota feet jewellery on your wedding day. From floral prints to different colours, you can usually find everything to match your dress. 
Mirror Work 
Mirror work has been in-trend for quite some time, especially on clothes. However, it is only until recently that the mirror work trend in jewellery took over the fashion scene by storm.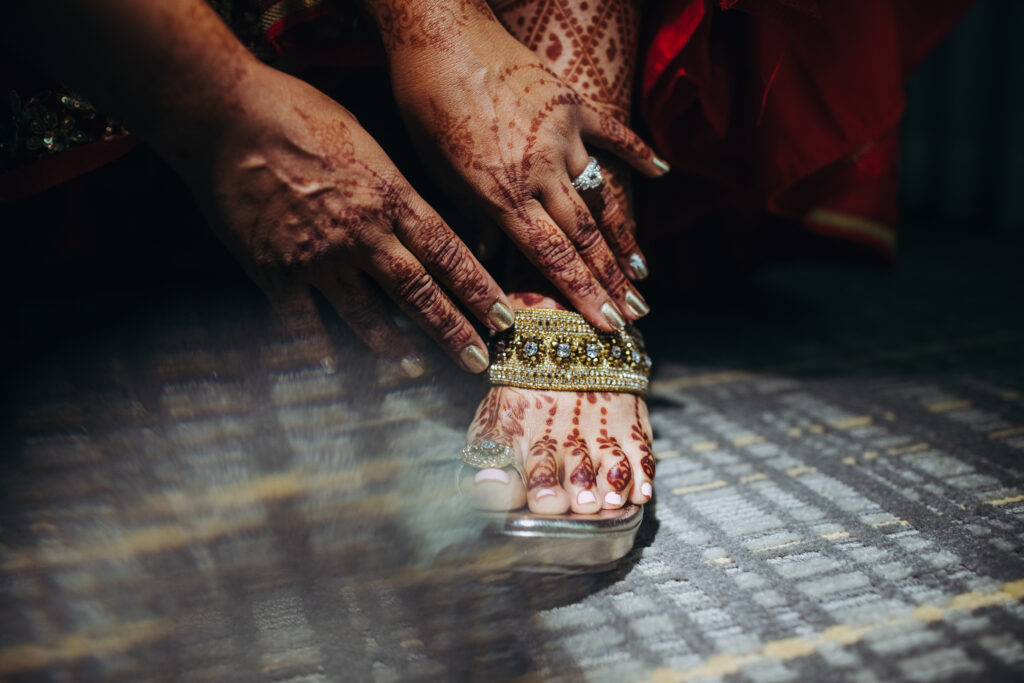 Whether it is to make your feet look more instagrammable, or you simply love all things mirror, adding mirror work to your feet jewellery will give your feet a minimalist, sleek look. 
Boho Chic 
Enough about golds and diamonds and mirror and gota work; what about the oldies at heart who simply want to invoke the thoughts of a vintage bride on their wedding.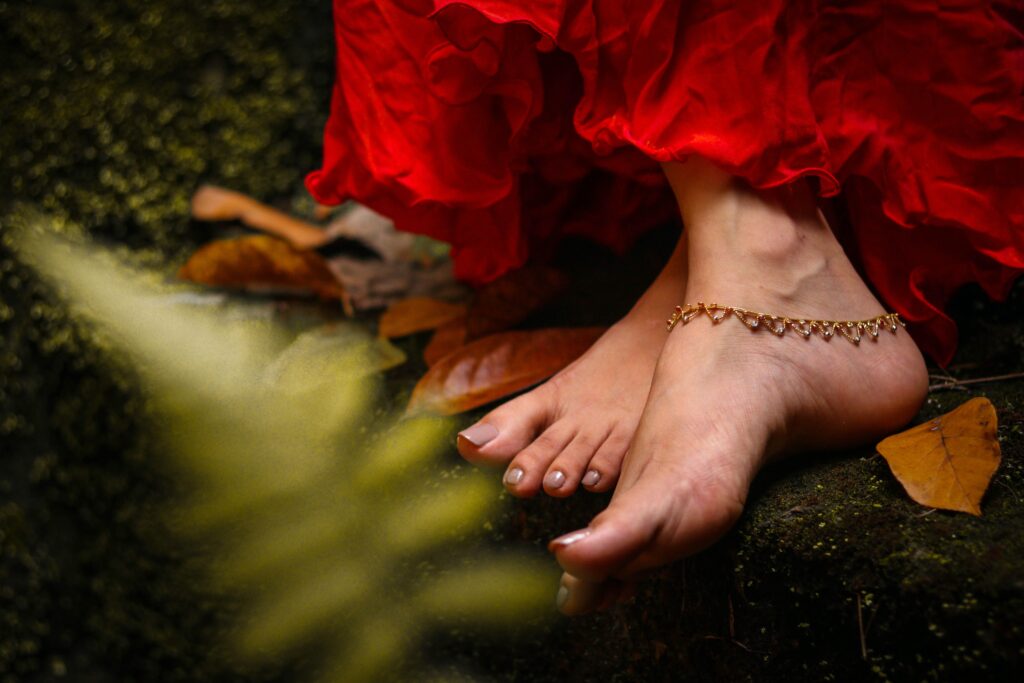 We have a way out for them too. With bohemian chic feet jewellery, breathe new life into your feet with the intricate designs and overall heavy look. 
It's All Flowers 
Just as we love flowers, our feet do so too – don't they?
It just seems that a little splash of colour and a few prints of florals and the world suddenly seems like a better place.
On your wedding day, pair floral henna with gorgeous, natural, flower feet jewellery.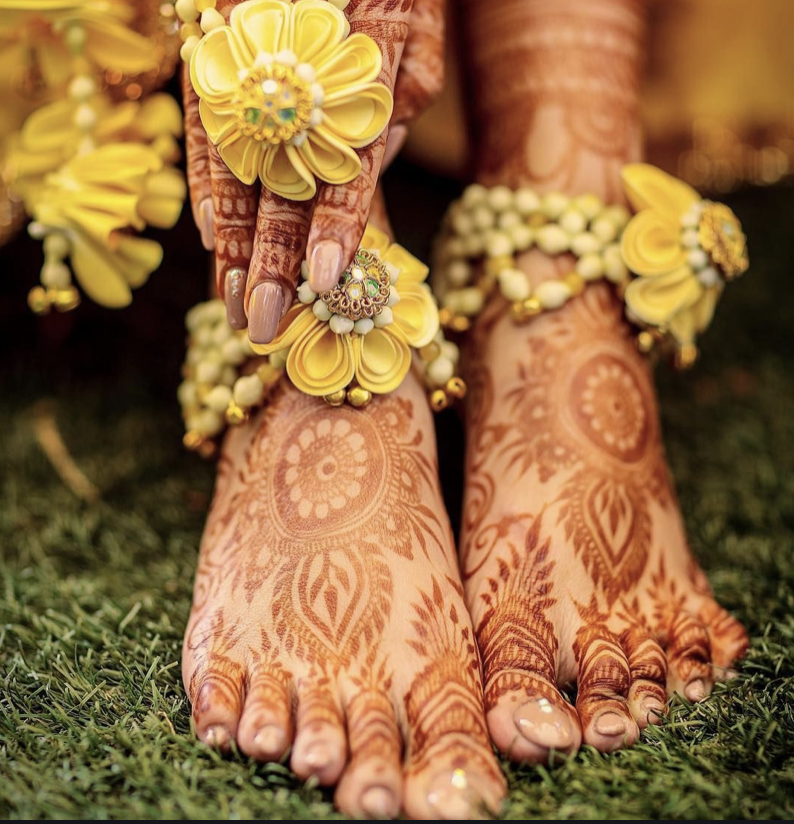 Plus point: flower jewellery isn't expensive and is temporary, until the flower loses its freshness. Thus, you can pair a different sort of flower feet jewellery for each day and attire. 
Toe Rings a.k.a Bicchya 
Anklets, payals, ghungroos, and more – but, who's taking care of the toes?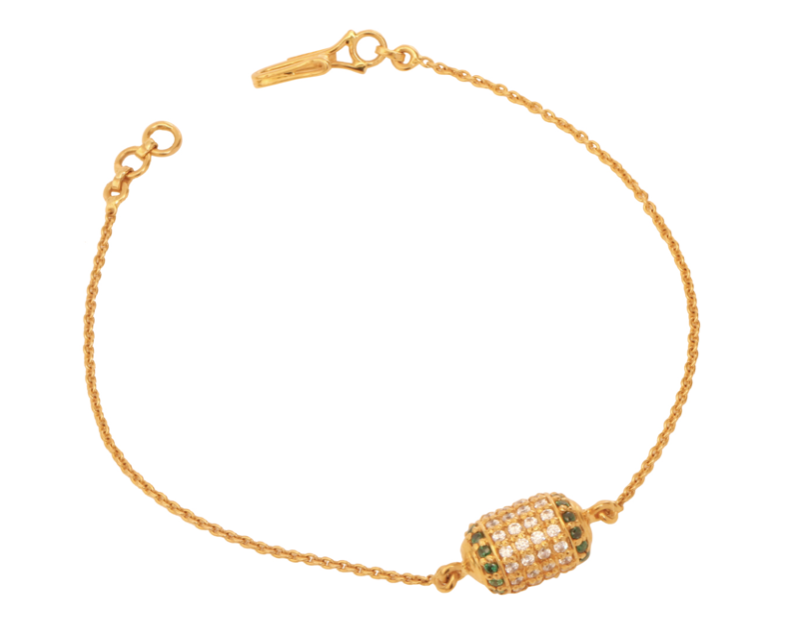 With a toe ring, you can let your toes shine. If you are unsure of feet jewellery or think you may feel uncomfortable, a toe ring, also known as a bicchya might just be the best way forth.
Adorn Your Feet
Are you ready to add the bling to your feet on your special day?
Imagine as ubtan fights happen, and the haldi-lagai ceremony commences, your henna-laden feet are adorned with feet jewellery as they peek from underneath the lehenga. 
What's better is that feet jewellery, especially anklets, often can prove multi-purpose as you can use them as a bracelet too.
Have a look at C. Krishniah Chetty Group of Jewellers' bracelet collection in gold and diamond, and have your pick!