Anatomy of a Pear-Shaped Diamond
Timeless and elegant, pear shaped diamonds resemble a tear drop having a rounded side that narrows down to a point at the opposite end of the diamond. Pear shapes diamond are often comparable to the round brilliant cut for its sparkle and brilliance only when they are very well faceted, besides it is the only shape that appears more colourful than a round diamond on a fancy color scale.
What are the biggest advantages of selecting a pear shape?
Pear shapes diamond look larger than the rounds of the same carat weight giving a greater visual effect, they are inexpensive, thy create a feeling of a Wow! Experience when customised as engagement rings in classic or trendy setting. A pear is always to stay in exclusive, unique, fabulous jewels to give its majestic look.
---
 Now! Let's get a closer look on its majesty detailing that are considered worth identifying when buying a PEAR.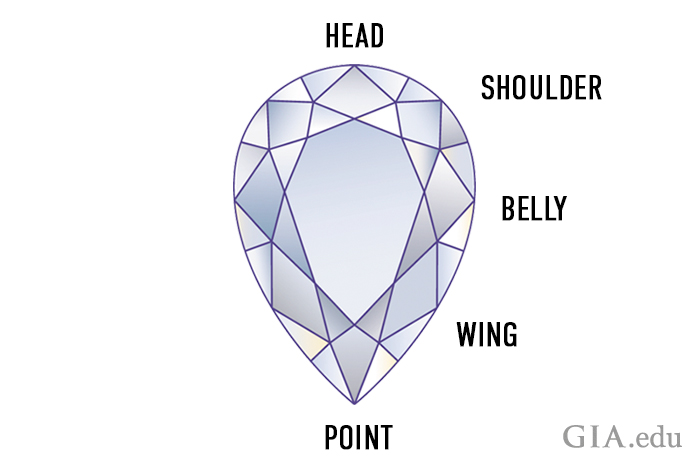 HEAD
The Head is the top portion with needs to be perfectly round, a little flat on the heads will create the feel of a triangular shape rather than pear.
SHOULDER
The sides should have a gentle round appeal as it starts tapering down. A little flat will create a triangular shape.
BELLY AND WINGS
Most pear shapes cut looks are too short and stout when wings do not form attractive arches, narrow wings create a long or narrow look, hence look out for the smooth way through from the shoulder gliding over to converge to a point.
POINT
A delicate ending that is more prone when dropped down. It could result into chipping, therefore safely protecting it is crucial when designing a jewel. I would suggest a  4-5 prongs along with  a V shaped designer prong to securely protect the tip from damages, or the other way is to mount it in a bezel setting when mostly preferred for daily wear.
SYMMETRY
It is the key to unlock the potential of any fancy cut diamonds like pears, marquise, Oval to visualise it overall beauty, consider drawing an imaginary line across the length of the stone and compare. The more they mirror each other the better.
LOOK OUT FOR THE PREFERRED RATIO
For the best attributes of a diamond a perfect cut, polish and symmetry is a must so is the ratio between the length and the width of a fancy shaped diamond, based on its outline, The most preferred pear shape is with a length to width ratio of about 1.55 to about 1.75.