The Gem of Ages – Turquoise
Turquoise is the sky-blue gem that captivated humanity for ages are found to be generously studded in varieties of jewellery. This most popular gem has entwined many cultures across the world.
Termed as sacred gem's these beads have been adorned since ancient times and fostered through generations to promote health, stability and balance in all areas of life. Indeed, this sacred crystal of turquoise must have been the first crystal to have ever been mined in Egypt's the Sinai Peninsula.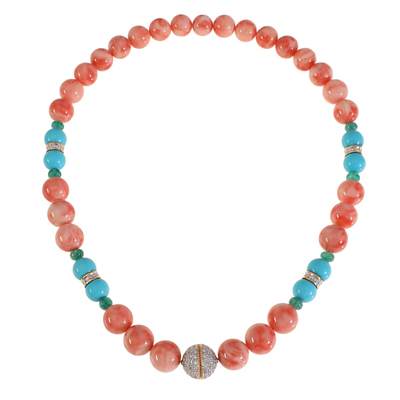 The natural turquoise is a soft opaque gem with a "sky-blue" or "robin's egg blue" colour with streaks at times in shades of bluish white to greenish white. Turquoise can take a very good polish and leaves a waxy luster. This gem is now becoming increasing rare due to depleting mines.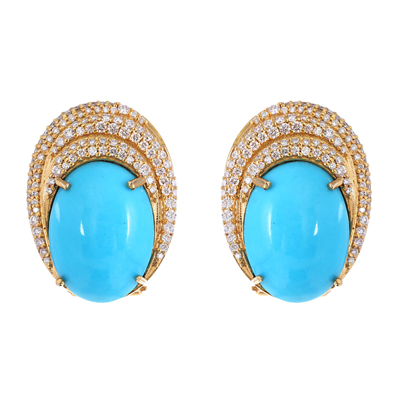 Did you know that the trace of copper gave them their blue colour? However, a little iron turns them green, with element Zinc they show a yellow tone to colourless. Therefore, turquoise is found in shades of medium-toned, sky-blue to dull greens to dark grass greens. The most sought-after colour of uniform blue, particularly from a region once known as Persia now Iran, is called "Persian Blue" in the trade.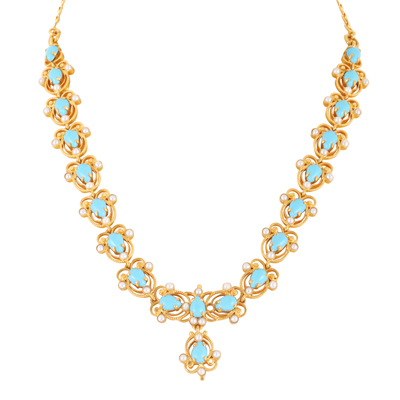 Therefore, different shades of turquoise are produced depending on the soil conditions and environment of growth. Hence, various mines yield various shades of turquoise. Few people think green turquoise is less valuable, but I love the ones produced from the Sleeping Beauty mine although, they are slightly greenish compared to the sky-blue hue of Iran. They lack a mottled or spiderweb effect and found them best suited for the unique jewellery pieces specially designed and crafted by C. Krishniah Chetty Group of Jewellers.
Let me tell you about the spiderweb turquoise?
Turquoise by nature contains blotch with dark spots or veins of the matrix (a remnant of its surrounding rock) running through them to form web-like patterns. These gems with a darker colour and a tighter matrix are desirable as a matter of personal taste.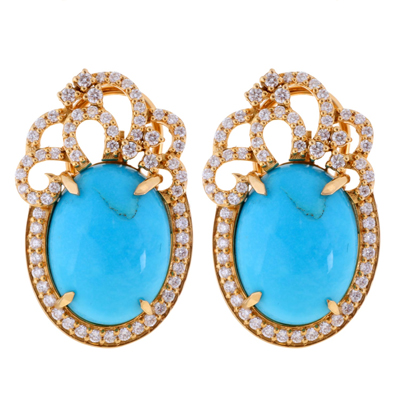 At C. Krishniah Chetty Group of Jewellers. You will find an array of exclusive jewellery designs, as well as unmounted gems, in all sizes ranging from small stones to large carat weights, to be custom-made to individual desire. These gems are found often as cabochon cut with a smooth rounded dome shape, beads, inlays and carvings.
When you wish to own an item of turquoise jewellery, ensure to recollect these valuable points.
Clear turquoise without veins is most valuable. Yet spiderweb matrix is a personal choice.
Fine turquoise is those that display intense uniform blue colour.
Gems need to be completely opaque and not semi-transparent.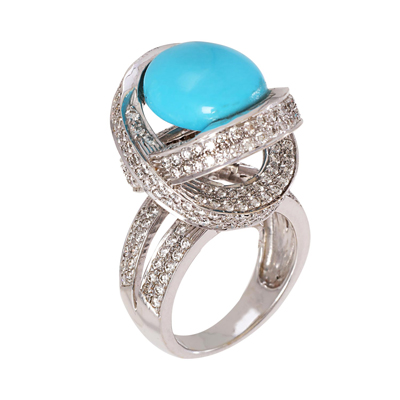 Be Cautious. Being porous by nature, they effortlessly absorb anything they encounter. Hence, special care is required when you are around cosmetics, perfumes, skin oil, acids, dust, sunlight, or other solvents. Maintain them in a well-aired place to avoid dehydration, to last a lifetime, a gem worth passing down the generation.