Add the Bling to Indian Holidays with C. Krishniah Chetty Jewellery
The dawn of the new year bought with itself a year of possibilities, prosperities, and of course, the much cherished and awaited yearly Indian holidays. While this year, spirits may seem down with the pandemic, dressing up to lift our moods and bring a smile on our faces is something we must practice.
Although in lockdown and practicing social distancing, we must keep ourselves happy and hopeful for a better future. Let's see how we can make this year's holidays different yet special:
5th July – Guru Purnima
This festival marks the birthday of Maharshi Veda Vyasa, the ultimate Guru, knower of the 'kaals' and author of Mahabharata and various other religious scriptures.
If you are thinking how or why to dress up during such troublesome times, know that while there is a lot to be scared of, there is much to be grateful for too. Don you best shalwar kameez for the evening and wear your favorite religious jewels.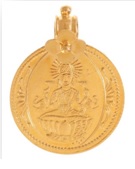 When I saw this gorgeous religious gold pendant in the C. Krishniah Chetty Collection, I immediately knew this was the one to wear this Guru Purnima. Giving peace and hope, as the pendant touches my skin, the world feels a better place – a much needed sensation in such times.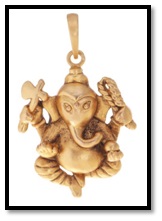 Yet, this Guru Purnima, do not just purchase jewels for yourself. Give gifts; classic gold pendants such as these with embossed motifs and classic figures from our culture and religion. This Guru Purnima, make others smile, and spread happiness through the essence of jewels – for the world needs it.
This Guru Purnima, make others smile, and spread happiness through the essence of jewels – for the world needs it.
30th July – Eid al Adha
Dependent upon the sighting of the moon yet expected on 30th July, Eid al Adha is a special day for Muslims worldwide. The Eid celebrates Hazrat Ibrahim's loyalty and obedience to the Almighty Allah, and calls for a festive mood.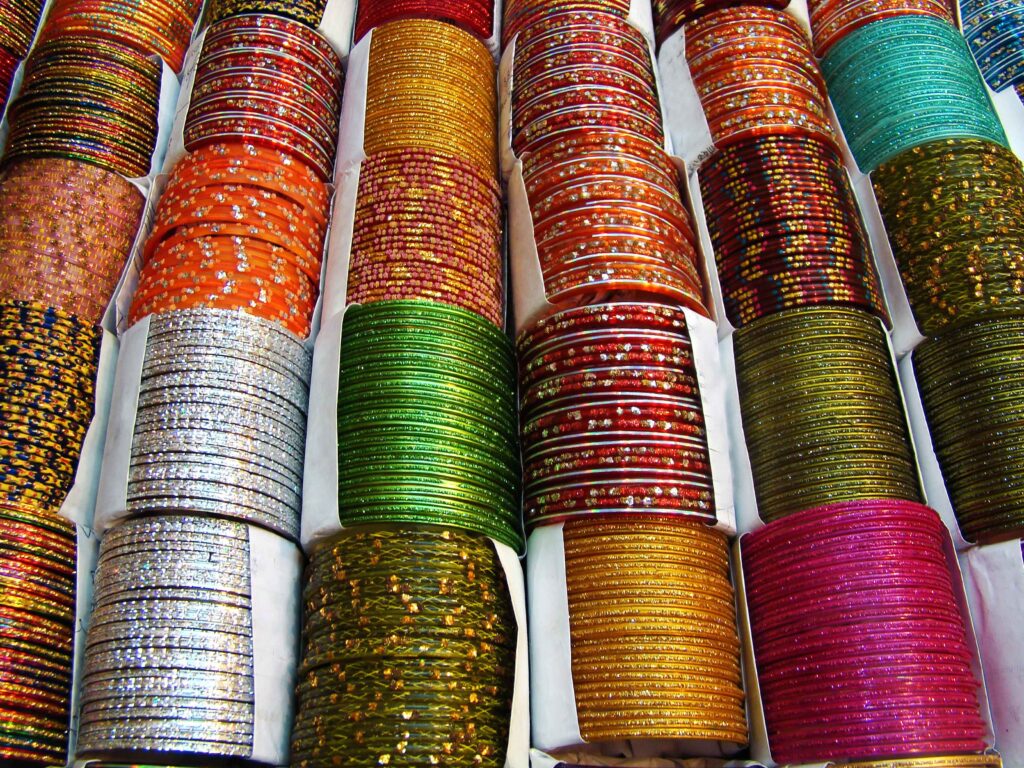 While this Eid calls for making new clothes, cooking up sweet delicacies, and dressing up festively, the most important aspect for girls is the Chudiyan. Eid seems incomplete without colorful and matching bangles dangling from the arms, emitting a heartful sound as girls compare the henna prints on their hand.
However, this year, you can make your Eid different. Instead of visiting crowded markets
for chudiyan, get gold bangles from C. Krishniah Chetty Jewellers. While this remains in line with safe distancing protocols, you can also make your Eid goodies durable – as gold bangles can be reused with any outfit for any forthcoming occasion.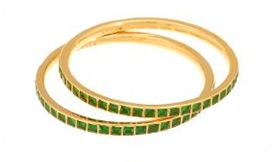 In my favorite color, these green bangles in classic gold immediately caught my eye. Purchase a pair, or two, if you want to wear them in both hands, and wear your green jora to stun this Eid.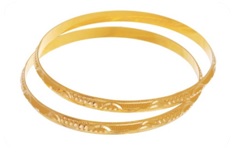 On the other hand, if green gets too color-specific for you, you can never go wrong with a pair of classic gold bangles. Bound to match with any and every dress you wear, these will surely make you stand out this Eid.
3rd August – Raksha Bandhan
The day celebrating the special bond of siblings, Raksha Bandhan involves a sister tying the rakhi on her brother's hand. As "Aik hazaron mein, meri behna hai.." plays in the background, COVID19 should certainly not come in the middle of brother-sister love. This means, regardless of the circumstances, a gift should be given to the sister.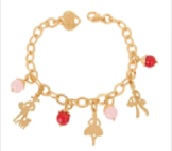 If your sister is younger than you, this gold charm bracelet with pops of color is the thing to gift your little sister this Raksha Bandhan. As you look at the bracelet, you can probably already imagine your sister jumping up and down, ecstatic as she gives you a tight hug and calls you the Best Bhaiyya in the world.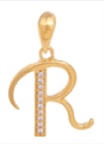 On the other hand, if your sister is older than you, charms might not be her thing. Instead, this Raksha Bandhan, give her something to remember and cherish as she holds it close to her heart; a classic gold pendant tracing the letter 'R' – signifying the memories of all Raksha Bandhans to come.
4th November – Karva Chauth
A day expressing love and devotion to their significant others, the Karva Chauth is a one-day fast held by women to pray for the health and long life of their better halves. Celebrated in full swing each year, albeit the troublesome times, this year calls for more motivation and preparation for this fast, for now is the need for prayers of life, more than ever.
As I think of Karva Chauth, I immediately find myself searching for my best saaree and jewels, yet the most important element of the Karva Chauth is finding the right thaal.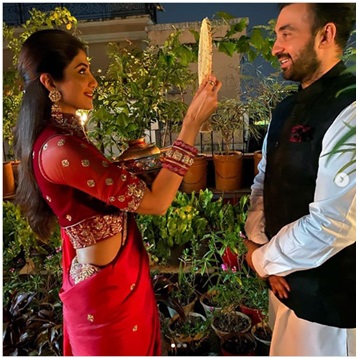 While lovebirds Shilpa Shetty and Raj Kundra may seem like couple goals in this Karva Chauth scene, my eyes fixated on the gorgeous silver thaali and I began my quest.
I found the perfect silver thaal made of 925 sterling silver in the puja collection by C. Krishniah Jewellers, as well as the gorgeous silver bell.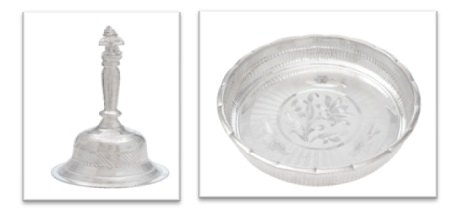 Durable and lightweight, these are definite must-haves for my puja this Karva Chauth to reignite K3G vibes and bring a vibe of festivity in such times.
In this year's special events, as you purchase the best for yourself, do not forget your loved ones. Give them tokens of peace, patience, and love. Take the aid of cultural and religious jewels from C. Krishniah Chetty, and let your loved ones know you are there for them.
---
Curated by Yagnika C Cotha