The Excited Shopping Spree
Can you imagine any other occasion more significant in your life than marriage?
Or
Is there something more exciting that you have experienced during your wedding purchase!
The most awaited day arrives only once in one's course of life. The heart gets filled with excitement and anxiety. A dream that every youth wishes to accomplish. These cherished dreams bring along a lot of responsibilities too.
Shopping for an Indian wedding is one of the most adventurous and fun-filled part of the entire event, along with the union of both families sharing memories, feelings, thoughts and desires. A certain amount of commotions, confusions, laughter, decisions with endless trails of wearing, admiring, selfies go along until a reminder comes from an elder to decide and move forward.
Is there any privacy in a showroom that we can to celebrate these great moments?
YES, at C. Krishniah Chetty Group you can celebrate such moments to get them get hardwired or permanently captured, for you to recall all the fun-filled experienced during the wedding shopping.
At C. Krishniah Chetty Group of Jewellers we offer: –
The Private Salon: Perfect for groups, families, or those seeking the most luxurious way to shop in comfort and ambience. Via a separate enclosure on the far side of the usually packed counters. The place features an all-encompassing space for families and friends to discuss and decide the goodness for the new weds. This space provides clients personal attention and helps to select jewellery without moving across counters.
The Salon collection: – Housed inside the separate encloser is a display of an exclusive range of elaborate jewellery creations, award-winning designs, a perfect ensemble for the special day to complements your costumes. The Salon collection is the perfect combination of heritage and contemporary designs in plain gold or studded with the most precious gem of rubies, emeralds, diamonds and pearls for the special day. Have yourself deck up with all the Indian bridal jewellery from head to toe that accentuates her beauty for her special day. These jewels depict the Indian-ness from the Nath to the most traditional jewel-toe rings that exemplify the typical Indian woman.
C. Krishniah Chetty Group of Jewellers has been designing and manufacturing custom jewellery for customers since 1869, a few of which has also been auctioned across the globe.
Wedding essentials: – Respecting the culture and richness of Indian soil and based on various religious-cultural customs, C. Krishniah Chetty Group of Jewellers, craftsmen handcraft over 150 designs of Thalis, crosses and many more to cater to different communities and groups across India. If you are running short of time, pick one ready off the shelf designed with the same sacredness and tradition displayed at the exclusive counter-The Wedding essentials. If you are looking for something unique, with a traditional yet contemporary design, of course, you will find a variety of those too.
Besides all these you have something more to cherish.
Hold on.
Did you know? Vintage is back in Fashion.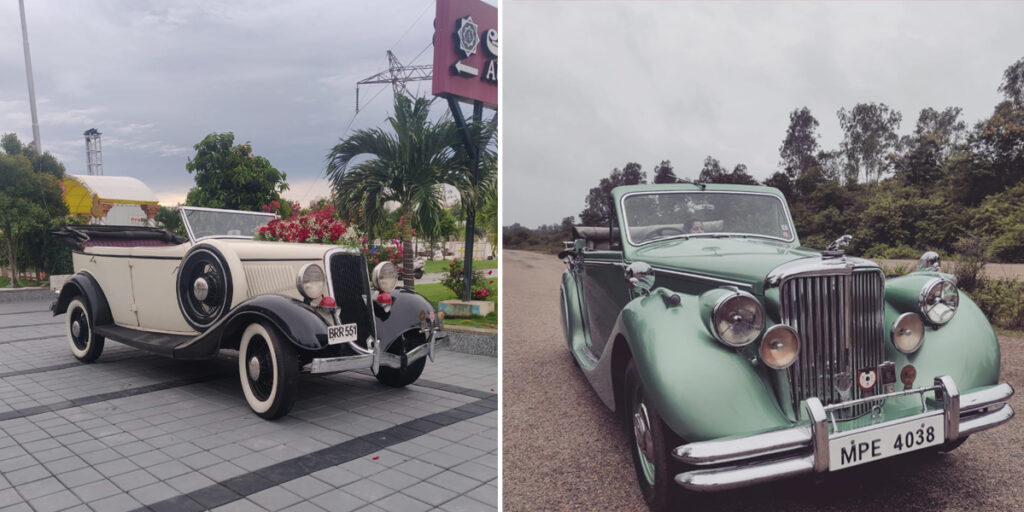 Vintage Weddings and Spectacular Memories.
Gone are the days when the groom used to come on a horse to wed the bride. The Modern youth prefer travelling by car that is considered classier, luxurious and more comfortable.
Be privileged to own a Vintage or Classic Car for a day. Our experienced chauffeur will drive with you on the special moments in life, for your wedding in family, birthdays, anniversary, or when you want to celebrate any special moments provided you prove purchase of Rs.10 Lakhs or more made within the last 12 months.
Zoom! to choose the Real vintage or classic cars from the CKC garage or a list of CKC connections with car collectors depicted in our catalogue. Grab a few minutes to fill up the form available at the desk and confirm with us.
Please note: – The car model made available may be offered with a change, although we will make all efforts to get you the car as the one selected. This free service is at the disposal of our esteemed patrons who have fulfilled the following criteria: –
Cumulative Purchases of 10 lakhs and above in the last 365 days.
The date of request must be a minimum of 7 days before your event.
Confirmations will be emailed back to you within 3 days of this request date.
Destinations must be within a 20 km radius of C. Krishniah Chetty Showrooms only.
The Vintage or Classic Cars are lent strictly for one day (8 hours) only.
More requests are chargeable at Rs: 50,000 per request per day.
This FREE service can be availed once a year in a period of 365 days.
Cancellations, changes in venue, or timings must be informed at least three working days prior.
Decisions of CKC is final and binding.
Be eligible to avail of this free service even when you shop offline or online www.ckcjewellers.com. For more information, feel free to call on +91 80 4100 1869 or Email: [email protected].